Here is the second post by Brent Nongbri on his recent book God's Library.    I mentioned in the first of his posts that the book is "ground-breaking."  In part that's because he challenges the widely accepted dates of a number of our earliest surviving manuscripts of the New Testament.   Here he talks about his further explorations of this problem.   The basic question: When scholars say "This manuscript dates from the fourth century" (or the second, etc.): how do they *know* that?  Or do they??  A lot of scholars will not be happy with Brent's conclusions!  But no one can simply write him off — he gives some very convincing analyses….
–
Brent Nongbri's most popular books are Before Religion: A History of a Modern Concept and God's Library: The Archaeology of the Earliest Christian Manuscripts.
***********************************************************
In my last post (HERE), I talked a little bit about some of the interesting stories of discoveries of ancient Christian manuscripts I uncovered while researching my recent book, God's Library. What I would like to do now is discuss some work I'm currently doing that builds on the sections of God's Library that deal with problems in assigning dates to early Christian books.
How do we know how old an ancient piece of writing is? It depends on the kind of writing. The "everyday" writing of antiquity (receipts, tax records, letters, wills, marriage licenses, etc.), which scholars simply call "documents," often contain dates, usually in the form of "Year X of the emperor so-and-so." But copies of ancient literature didn't carry those kind of explicit dates. Starting in the ninth century AD, we do find biblical manuscripts with dated colophons, or notes from the monks who copied the manuscript, but older manuscripts lack these kinds of dates. So how do we know the age of these older manuscripts? Sometimes we get lucky. For instance, a fragment of a copy of a gospel harmony (a combination of the four canonical gospels) was found in the ruins of Dura Europos, a city in Syria that was sacked, destroyed, and abandoned in 256 AD. So this harmony must have been copied before that time. Sometimes when literature was copied on a papyrus roll instead of a codex, the blank back of the roll might be reused for a document with a date, so again, we would know that the piece of literature on the front of the roll was copied before the date of the document on the back. These are objective ways of knowing at least roughly when a manuscript was copied.
You might think that early Christian manuscripts would be analyzed using radiocarbon dating, but …
To read the rest of this post, and it's rather shattering conclusions, you will need to belong to the blog.  Joining is easy and cheap — so why not?
but that's actually only very rarely used on early Christian books. Radiocarbon analysis requires the destruction of a tiny piece of the manuscript in order to extract enough carbon to test, and many collections have total non-destruction policies for their holdings. So only a relatively small number of Christian manuscripts have been dated by this method.
Instead, in the vast majority of cases, scholars rely on palaeography, the analysis of handwriting, to assign dates to early Christian manuscripts. The basic idea is this: Styles of writing change and develop over time. If we can identify a sample of writing of writing as belonging to a given style and can place that sample into the developmental scheme for that style, we can establish a rough date range for the copying of that sample. This process works best when we have lots of samples that are objectively dated (like, say, the Dura Europos gospel harmony mentioned above), but this is not often the case. So, it turns out that the many of the dates assigned to our earliest Christian manuscripts are not as certain as we might hope. Let me illustrate this point with an example.
Below is an image of some papyrus fragments from a manuscript that contained Paul's letter to the Romans. The manuscript is part of the papyrus collection at the University of Cologne in Germany. It was published in 2003 as P.Köln 10.406, better known to New Testament scholars as P118: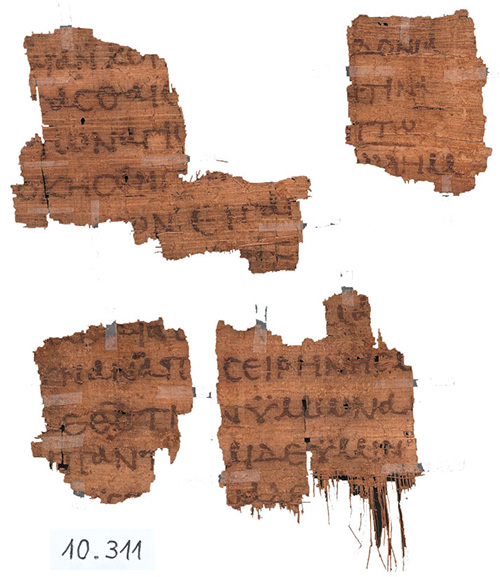 [caption: Fragments of a papyrus codex containing Paul's letter to the
Romans, P.Köln 10.406; image source: Kölner Papyri]
Its editor, the person who first published it, assigned it to the third century. On the basis of what evidence was this assignment made? Very little. The editor said the handwriting looked like handwriting of another Christian text that we call P.Bodmer 2, a papyrus codex of the Gospel According to the John that was assigned by its editor to the third century.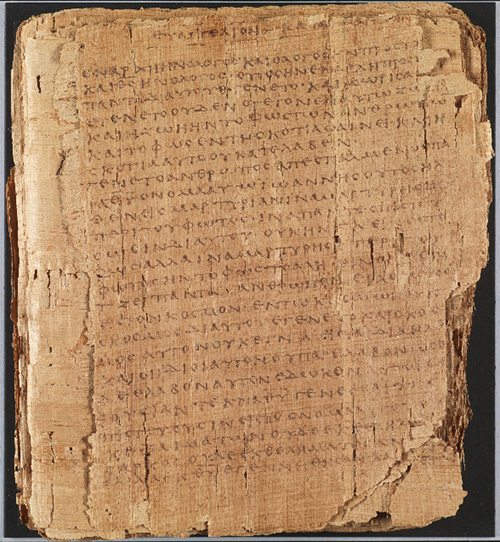 [caption: A papyrus codex containing the Gospel According to
John, P.Bodmer 2; image source: Fondation Martin Bodmer]
Now, how did the editor of P.Bodmer 2 decide that it was copied in the third century? Because it looked like a manuscript of Exodus that was assigned to the third century! You can probably see the problem. There isn't any reference to manuscripts that have an objective, secure date. We're just going around in circles. So, what we have here is not really an argument based on evidence. It's an argument based on the authority of the scholars who publish the manuscripts. Now, the people who publish these manuscripts are excellent scholars with a huge amount of experience, but I think we can do better and make this more of an evidence-based discussion. A few years ago, I published an article arguing that P.Bodmer II was probably copied in the fourth century instead of the second or third century (you can read the whole article here). I made close comparisons with the handwriting of several securely dated manuscripts, such as P.Bodmer 20, a copy of the Martyrdom of Phileas, which must have been made after the year 305 AD, when Phileas was killed: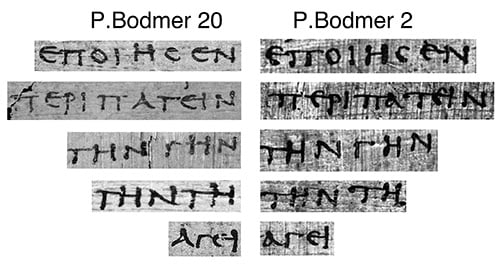 [caption: Comparison of the scripts of P.Bodmer 20 and P.Bodmer 2;
images sources: Fondation Martin Bodmer]
To me, these similarities both in letter forms and relative positions of letters are quite compelling. And on top of that, P.Bodmer 2 and P.Bodmer 20 were probably part of the same ancient library. So it seems quite possible to me that P.Bodmer 2 was copied in the fourth century. Thus, if the editor of P118 was correct to see similarities between that manuscript and P.Bodmer 2, then P118 may also have been copied as late as the fourth century. But  there are characteristics of P118 that I think might indicate that it was copied in an even later period. For instance, we can tell from the surviving remains that this manuscript had two columns of writing per page. This is a very uncommon feature in Christian books copied before the fourth century (which were usually copied with just one column per page), but it is quite common for books copied after the fourth century. For these reasons, I am cautiously confident that P118 was copied at some point in the fifth or sixth century, and not in the third century.
So, these kinds of detailed comparisons of handwriting can cause us to reconsider the dates of many early Christian manuscripts. You can see other examples of this kind of work in God's Library.
_________________________________
Other guest posts by Dr. Brent Nongbri: https://ehrmanblog.org/?s=+Nongbri  Biography: Macquarie University, Sydney Australia. ARC Discovery Early Career Researcher. BA University of Texas at Austin; MA, MPhil, PhD Yale University. Research Interests: Early Christianity and ancient Judaism, method and theory in the study of religion, papyrology, textual criticism, archeology, and historiography.  Extended Biography