We come now to the third part of James Tabor's guest post thread on the biological father of Jesus, where he proposes a controversial solution that will surely spark some reactions!  Are you convinced?  Inclined to be convinced?  Not at all convinced?  Let us know what you think!
Again, these posts are tied to James's forthcoming book The Lost Mary: How the Jewish Mother of Jesus Became the Virgin Mother of God (Knopf).
******************************
Part III
These earliest references to Pantera stand in the sharpest contrast to several dozen much later references in rabbinic literature that slanderously charged that Jesus was the illegitimate son of a man named Pantera, with whom his mother had committed adultery.[1] And it was this story that then got passed on beyond Jewish circles—including to the philosopher Celsus, who identifies it as a tale passed on by Jews.
Several early Christian writers, responding to these charges that Jesus was the adulterous "son of Pantera," a Roman soldier, counter with the explanation that the name Pantera was an ancestral name in Jesus' family lineage, so it would be appropriately used, not as the name of Jesus' biological father, but as a designation of his general family ancestry. This would be like the way in which the term Hasmonean came to be used for those descended from Asamonaeus or Hasmon—a forebearer of this famous priestly family. Josephus, for example, says of his ancestry, "Moreover, on my mother's side I am of royal blood; for the posterity of Asamonaeus from whom she sprang, for a very considerable period were kings, as well as high-priests of our nation."[2] In that general sense, these writers claim, Jesus could be identified as a "son of Pantera."
Epiphanius, an early fourth-century Christian writer, claims the name is from Joseph's side of the family.[3] This is of course possible, but less likely than a related claim. John of Damascus, a sixth-century CE church father, introduces the name into the genealogy of Mary, stating that she was the daughter of Joachim, who was the son of a certain Bar Panther, who was the son of Levi, presumably surnamed Pantera.[4] This is rather remarkable, as it would put the name Pantera into Mary's royal/priestly line. The sixth-century CE Jewish Christian author of the Teachings of Jacob quotes a Jewish teacher from Tiberius who claims to know the genealogy of Mary. He writes she is "the daughter of Joakim, and her mother was Anna. Now Joakim is son of Panther, and Panther was brother of Melchi, as the tradition of us Jews in Tiberias has it, of the seed of Nathan, the son of David, of the seed of Judah."[5] It is difficult to imagine these Greek Christian writers making a place for the name Panthera (or Pantera) in the genealogical records of Mary, Jesus' mother, unless they had warrant for it in Eastern Christian tradition. It does not surprise me that the name was completely lost in the West and became a mark of slander, since Luke's genealogy of Mary was usually downplayed in favor of Matthew's royal line of David through Solomon.
Unfortunately, beyond this idea that Pantera is a name from the families of Mary and Joseph, who might well have been related, we have little to go on.
Outside Israel the name Pantera is relatively common as a Roman cognomen or surname, with several examples referring to Roman soldiers.[6] One in particular, noted by Adolf Deissmann in 1910, has caught the attention of several scholars, including Morton Smith, who suggested it might be the only authentic "relic" of the historical Jesus. It is a tombstone monument of a first-century Roman soldier named Pantera near the Roman camp at Bingerbrück on the Rhine River in Germany. Here is the Latin with an English translation:
Tib. Iul. Abdes. Pantera.                                   Tiberius Julius Abdes Pantera
Sidonia. Ann. LXII.                                                  of Sidon, aged 62
Stipen. XXXX. Miles. Exs.                              A soldier of 40 years' service,
Coh. I. sagittariorum.                                     of the 1st cohort of archers,
s. e.                                                                         lies here
Julius Abdes Pantera was an archer in the Roman army. He was from Sidon, just north of the upper Galilee on the Mediterranean coast of Syria, only sixty miles from Nazareth and he served as a Roman soldier for forty years in the first century CE. He was apparently a slave, freed for his service sometime in the reign of Tiberius (14-37 CE)—honoring the emperor by taking on his name. It is possible he might have been Jewish, based on the name Abdes.  I have traveled to Germany several times to examine the tombstone and learn what I could about this Julius Abdes Pantera and his career. The tombstone is now in the Römerhalle Museum in Bad Kreuznach not far from the original Roman camp at Bingerbrück. Today there are modern roads and apartments built over the spot. The Roman camp, from what I could tell in consulting with local archaeologists, was nearby on the banks of the Nahe River, which still has foundations of a bridge from Roman times. However, more recent research on the details of Julius Abdes Pantera's career, has established that this Roman archer Pantera was definitely not a soldier at the time Mary would have become pregnant. Whether he was Jewish, and perhaps taken as a slave into the Roman army, remains a possibility.[7]
The idea that Mary was raped by a Roman soldier has been most ably defended by Jane Schaberg.[8] Needless to say, the backlash on that idea has been massive. The argument she makes is that given the times in which Mary lived, and especially the unrest in the Galilee we have seen following the death of Herod the Great, unless Mary willingly violated her engagement, rape is the most likely scenario with a Roman soldier, perhaps named Pantera, as the father. I see several problems with this possibility. First, our earliest ancient source that identifies Pantera as a Roman soldier is the text from Celsus in the late 2nd century, and he says nothing about rape. Quite the contrary, he asserts that Mary and Pantera choose to be together, despite her engagement to Joseph. Second, at the time of the birth of Jesus, which was nearly two years prior to Herod's death in March 4 BCE, we know of no disturbances in Galilee that would account for women being raped.  Roman soldiers were not stationed in Sepphoris or around Nazareth, but in Syria to the north, under the command of Varus. Herod was in firm control of things around the time Jesus was born.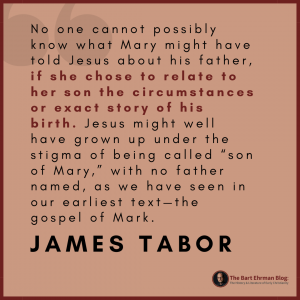 It should also be noted that in the case of this Pantera of Sidon, he would not have to be in the Roman army at the time Mary became pregnant with Jesus. He might well have either joined or been conscripted into the Roman army after Jesus was born, and thus the rumor circulated that Mary had gotten pregnant from a Roman soldier. Since we have sources that claim that Pantera was a name known in the family of Mary, it is entirely possible that Mary became involved with someone by that name, associated with her extended family, even before her marriage to Joseph was arranged by her parents, whether that Pantera became a Roman soldier subsequently or not.
We can assume that Mary's parents must have considered Joseph the best match for her—perhaps given his artisan's trade and some degree of social status. Disagreements over the choice of marriage partners is probably as frequent a topic of contention in families as any other. It is entirely possible that Mary was already involved with Pantera, had become pregnant and kept it to herself, but then when presented with the marriage firmly stood her ground, honoring the child growing within her as a gift of God.
How Joseph comes into the picture we don't know. Nor do we know whether he was indeed older, or the pick of the family, or whatever, but he appears to be a "good man," and he can be honored for that. Jesus' biological father, whoever he might have been, disappears. Whether he was caught up in the massive exile of the upper Galilee after the 4 BCE revolts, or he joined the Roman army, or he met with any number of other possible fates—we will never know.
No one cannot possibly know what Mary might have told Jesus about his father, if she chose to relate to her son the circumstances or exact story of his birth. Jesus might well have grown up under the stigma of being called "son of Mary," with no father named, as we have seen in our earliest text—the gospel of Mark. Mary may well have stood firm in her choice of his father—no matter what wagging tongues might imply to the contrary and decided to go ahead with her arranged marriage given her circumstances. Only a woman knows the inner secrets of her heart, and with whom and why she decides to share her bed. Maybe Mary believed in destiny. Maybe she raised Jesus with a sense of his specialness, his uniqueness, precisely because she loved his father. We simply have no way of knowing or verifying any of these speculations. But yes, Jesus had a father, as all of us do. And if his name was Pantera, what early evidence we have would make him part of the family clan.
[1] Peter Schäfer, Jesus in the Talmud is the best study of these later materials. Without claiming they give us accurate historical information, Schäfer shows that such references, even though often cryptic, do in fact refer to Jesus of Nazareth. This is in sharp contrast to Johann Maier, who denies there are any significant references to Jesus in the rabbinic literature, see his magnum opus, Jesus von Nazareth in der talmudischen Überlieferung (Darmstadt: Wissenschaftliche Buchgesellschaft, 1978). The tradition carries well into the middle ages, with the polemical Jewish treatise known as Toledot Yeshu that exists in many versions, see Krauss, Das Leben Jesu nach jüdischen Quellen, Nachdruck der Ausgabe Berlin 1902 (Hildesheim: G. Olms, 2006), who includes nine different versions of the text. Many of the English translations omit the "seduction scene" as too offensive.
[2] Josephus, Life 1.
[3] Epiphanius, The Panarion, De Fide II and III 78:7-5 through 8:2.
[4] John of Damascus, De Fid. Orthod. iv, 14
[5] Doctrina Jacobi V.16, 209. See Doctrina Jacobi nuper Baptizati, in G. Dagron and V. Déroche, "Juifs et chrétiens dans l'Orient du VIIe siècle," Travaux et Mémoires 11 (1991) 17-248, that contains an edition of the Greek text with French translation.
[6] Adolf Deissmann, Light from the Ancient East: The New Testament Illustrated by Recently Discovered Texts of the Greco-Roman World, trans. Lionel R. M. Strachen, from the 1922 revised 4th German edition (Grand Rapids: Baker Book House, 1965), pp. 73-75. Deissmann published a more extensive treatment in his 1906 article "Der Name Panthera," Orientalische Studien T. Nöldeke gewidmet (Brunnen Verlag: Giessen, 1906): 871-875. He gives a half dozen examples of the name Pantera published in Corpus Inscriptionum Latinarum—the comprehensive multi-volume collection of Latin inscriptions from the Roman world—including the Bingerbrück tombstone of the Sidonian archer. See also the summary of L. Patterson, "Origin of the Name Pantera," The Journal of Theological Studies 19, no 73 (October 1917): 79–80.
[7] The best and most recent study is by Christopher B. Zeichmann, "Jesus 'ben Pantera': An Epigraphic and Military Historical Note," Journal for the Study of the Historical Jesus 18 (2020): 141-155.
[8] Jane Schaberg, The Illegitimacy of Jesus: A Feminist Theological Interpretation of the Infancy Narratives, Expanded Twentieth Anniversary Edition, (Sheffield: Sheffield Phoenix Press Ltd, 2006). For reactions see her prologue "Feminism Lashes Back: Responses to the Backlash," pp. 3-10.
Share Bart's Post on These Platforms