I am starting to do research for my next online course, to be given in November, dealing with the Hebrew Bible.  I'll be calling it "Finding Moses" and it will be dealing with four of the books of the Pentateuch (Exodus, Leviticus, Numbers, and Deuteronomy) and what we can actually know, historically, about the exodus from Egypt (Is there any archaeological evidence? Any reference to it in other texts outside the Bible?  Any reason to think it did, or reasons to think it did not, happen?) and about the law of Moses (Were Jews legalistic?  Did they have to keep the law for salvation?  Why do some of the laws seem so strange today?  Why do some people insist that some of the laws are still binding but others not?  etc.).
One book I'll be rereading in thinking through the various historical issues of the Pentateuch is Israel Finkelstein and Neal Asher Silberman's, The Bible Unearthed.
I remembered I had talked about the book on the blog long ago – it's not about Moses, but about King David.  I looked it up and, lo and behold, I was right.  I did.  It was in response to a question I had been asked.  Here it is.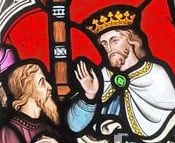 QUESTION–Did King David Exist:
According to Finkelstein and Silberman's book, The Bible Unearthed, which I know you admire, there is zero evidence for the existence of Solomon and not much more for David and Saul (Shlomo Sands takes a similar view). Your position seems to be that all three existed: can you please tell me why you think this?
RESPONSE:
First let me say that I think Finkelstein and Silberman's book is absolutely terrific.  I often get asked what book I would recommend to people who are interested in the critical study of the Hebrew Bible (Old Testament) comparable to the kind of thing I do for the New Testament, and along with Richard Friedman's book, Who Wrote the Bible, I always recommend The Bible Unearthed.  It is written by two highly established and incredibly learned scholars who seem to know everything relevant to the Hebrew Bible, and it presents views that are very different from what people with only a passing familiarity with the Bible would think.  Really great, in every way.
Finkelstein and Silberman are far more qualified than I to say *anything* about the history of ancient Israel.   And as it turns out, I am not *very* different from them when it comes to the existence of the Israelite kings Saul, David, and Solomon.  If you want to look at what non-biblical sources say about any of them (Saul as the first king of Israel after centuries of relatively independent tribes running their own affairs; David his successor, who defeated Goliath and became the king over a vast territory; Solomon his son, one of the wealthiest and wisest monarchs of ancient history), the reality is, well, none of them is actually mentioned in other sources.
But there are two provisos.  The first is simply the general observation that we would not expect to find much said about them in non-Israelite sources, any more than we have extensive references to the kings of Moab or Edom in ancient sources.  We simply don't have many other sources, and those that exist are not interested in talking about kings of other peoples.
But second there is at least *one* piece of external evidence that David was a king and that he established a royal dynasty in Israel.  Finkelstein and Silberman know this, of course, which is why they say there is not *much* evidence of David's existence.  In 1993 archaeologist in the northern part of Israel discovered fragments of an ancient stele – a stone slab on which an inscription was written – at a site called Tel Dan.   The inscription on the slab was made by a king of the 9th century BCE mentioned in the Bible (1 Kings 19:15) Hazael, who had a major kingdom in what was later called Syria.  On the inscription Hazael boasts of having defeated in battle two kings, Omri, the ruler of the northern kingdom of Israel, and an unnamed king of Judea "of the house of David."
What this means is that there was a king named David who started a monarchic dynasty in Judea sometime before the 9th century.  That, of course, is exactly what the Bible says.
What do we know about this King David otherwise?  Nothing really.  All we have is what is in the Bible.  There are very good reasons indeed for thinking that the biblical narratives about David are highly, if not completely, legendary.   They were not written until 400-500 years after David would have lived.  Are they of much more historical value than the legends of King Arthur?  (There surely was some kind of king in England after the Romans had departed, but we don't have stories until many centuries later.)  Or are there some historical materials in these stories?  It can be a matter of debate.
But assuming that David was not absolutely the first king of Israel, then there would have been *someone* like a Saul before him who had made the disparate tribal groups of the region into some kind of kingdom.  And since David had a dynasty (according to this inscription), then his son (in the Bible it is Solomon) would have been ruler after him.  But again, my sense is that most – almost all? – the tales about these figures is the stuff of legend, not history.
To Read Comments or Comment, Please Upgrade to a Full Access Silver, Gold or Platinum Membership.