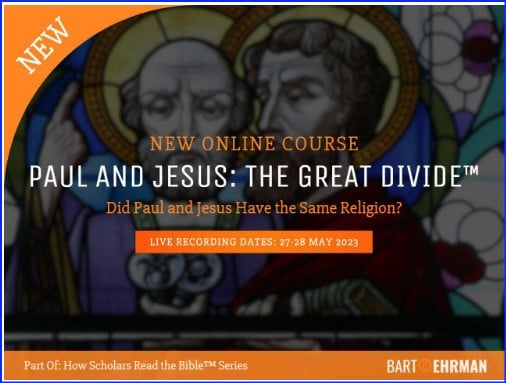 In case you haven't heard, I will be doing a live, eight-lecture online course comparing the theology of Paul and Jesus on May 27-28.  The course is not connected with the blog — it is part of my separate venture for a series I'm publishing called How Scholars Read the Bible.  But I mention here because some of you may be interested.  Even if you can't make the live sessions and Q&A, you can purchase the course to watch at your leisure.  You can learn about it here: BartEhrman.com
The course will consist of  four lectures and one Q&A each day.  The lectures will be 30 – 40 minutes each.
This course addresses one of the most controversial issues of early Christianity: Did Paul and Jesus have the same religion? Should they be considered the "co-founders" of Christianity? Or were the teachings of Paul at odds with the proclamations of Jesus, making Paul himself the founder of the new faith? Few questions can be more significant for understanding the origin of the Christian faith, and the answers are by no means simple.
Here are some of the issues I'll be dealing with:
How can scholars know what Jesus really said and did if all we have are later accounts written about him, decades after his life, by people who didn't know him and who described his words and deeds in light of their own beliefs?
What did Paul, writing before the Gospels, actually know about Jesus' life, about his words, deeds, and experiences? Why did he say so little about it? Did he assume his readers already knew all about it? Did he think that Jesus' life and teachings didn't matter for salvation? Did he think they were irrelevant for the problems Christians were facing?
Was Paul's view of Christ as a pre-existent divine being the same as Jesus' own view of himself and his mission?
Jesus preached an apocalyptic message that God would soon destroy all who were opposed to him and bring a new, blessed kingdom to earth. How did that affect his understanding of salvation? Is Jesus' call for repentance and a return to God the same as Paul's gospel of Jesus' death and resurrection?
Jesus instructed his followers to keep the Law and to live for others in order to enter the kingdom. How does that compare with Paul's view that a person is made right with God apart from the law?
If Jesus was right, that a person could enter the kingdom by behaving the ways God demanded, why would he have to die? If Paul was right, that only belief in Jesus' death and resurrection could bring salvation, why wasn't that the focus of Jesus' own teachings?
Since Paul claimed that a person could be saved apart from keeping the law, does that mean he advocated "lawless" behavior? How can he insist on ethical behavior? Does God care if a person keeps the Law?
Again, if you're interested in learning more, go here:  BartEhrman.com
As I indicated, you can purchase a ticket for the course and come live to hear me deliver the lectures and to participate in the Q&A.  OR, if you can't attend, or just don't want the live version, you can simply purchase the course to watch at your convenience.  Either way, you will get the video of the course, along with all the extra materials that come with it (Questions for Reflection on each lecture, suggested readings, etc.). Blog members can use the coupon code BLOG11 for the usual $5 member discount + $6 Early Bird discount, good until May 27 (after that, the usual BLOG5 coupon code will return).
I hope to see some of you there!